Burglar Alarms
When choosing a security company you have many options.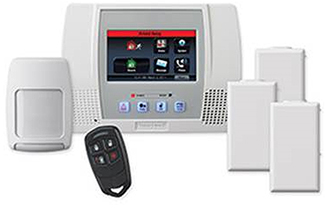 Sonitec Security Systems specializes in custom residential and business security alarm systems in all of NYC , Westchester, Rockland, Fairfield , Bergen & Orange counties.
What sets us apart from other alarm system companies is how we utilize our technology and provide exceptional customer service.
Whether you are looking for a home alarm system or a business security system, we can get the job done and deliver unmatched results every time.
Our alarm systems provide added security and defend your home or business from events like theft, fire, and flood.
From residential alarm systems to commercial security systems, we work with each client to create a solution tailored to fit their needs.
We offer brands, including Honeywell , GE & Napco alarm systems, that have highly programmable control panels and automatically alert you, guards, police, as well as, trigger sirens and strobes.
Our alarm systems are fully integrated with Z-Wave technology, which allows you to control lighting, A/C, and every Z-Wave device in your home through your Honeywell alarm system and smartphone.
After customizing a security system solution for your home or business, Sonitec Security Systems will expertly install your new alarm system including door and window sensors, motion sensors, glass-break sensors, smoke detectors, heat detectors, carbon monoxide detectors, flood sensors, and low temperature sensors.
We will then train you on how to use all the features of your new security system so you can use it to its full potential.
Whether you're looking for an alarm system for your home or business ,you want to know exactly what the system can do for you. Having features that fit your business or residential needs makes a huge difference in terms of safety and convenience.
At Sonitec Security Systems, we have the experience and technology to create a security system that will give you peace of mind for your home or business.
Looking for burglar alarms near you? Contact us today to schedule a free on-site evaluation: 914-667-3399.