Free Amazon Key For Business Installation
REQUEST A FREE INSTALLATION TODAY
Add efficiency and save money by granting authorized access to package delivery personnel inside your apartment complex or package room.
Our team has partnered with Amazon to provide Amazon Key – a new, free, program that will help alleviate your wasted time managing Amazon packages. According to the Wall Street Journal, property Managers waste 10 minutes of productivity per package. Properties like yours have the highest rate of lost, stolen, damaged, and undelivered packages.
THIS IS HOW IT WORKS
One of our CSS technicians will install the Amazon the Key for Business device FREE OF CHARGE!! No cost to you now or in the future.
The Key for Business smart fob seamlessly integrates with your building's existing access entry system, so your residents' experience stays the same.
On delivery day, Amazon's delivery drivers use the special Amazon delivery app to request access to the building. Drivers can only access public areas like halls or mailrooms and are tracked in GPS while at your property.
The Amazon Cloud validates the driver's credentials using their ID, route, GPS location and time of request before access is granted. After the cloud validates the driver, then time-limited access is granted for delivery.
You can provide detailed delivery instructions, with pictures, and those instructions are sent directly to the driver. The result is an 80% increase in delivery compliance!
BENEFITS OF AMAZON KEY FOR BUSINESS
APARTMENT COMPLEXES:
Managing tenant package delivery in a properly secured apartment complex can be very time consuming for property owners and managers. Amazon Key For Business relieves these headaches by securely enabling delivery drivers to drop packages off inside the facility. Benefits include:
Providing door front delivery within your complex for your tenants.
Saved costs associated with staffing a mailroom.
Preventing delayed delivery due to uncoordinated drop-off times between tenant and delivery drivers.
BUSINESS OFFICES
Amazon Key For Business is a fantastic upgrade for commercial offices. The system significantly increases the efficiency of the package delivery process and gives you more time to run the business. Benefits for commercial facilities include:
Allowing secure 24/7 package delivery (even when reception areas close).
Reducing the expenses of maintaining a fully functioning mailroom.
Eliminates the inefficiency of manually allowing access for every delivery.
Prevents delivery personnel from accessing your facility unmonitored.
GATED COMMUNITIES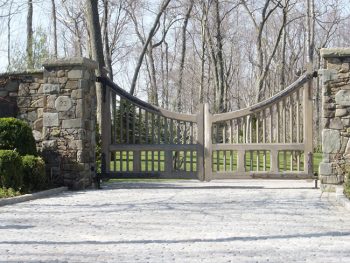 Amazon Key for Business expedites faster deliveries without annoying calls that require your time to answer. Contactless deliveries are efficient and fully documented with a security trail in case of any disputes.
Amazon Drivers can ONLY enter if they have a package to deliver.
Allows entry to deliver even if you are not  home , without any delays
Guarantees delivery will be placed where it is selected by HOA
Priority Complaint hotline to Amazon for any issues
Frees up entry for visitors if delivery is using intercom